XperienCentral allows you to link to both internal and external content. These links can be maintained in the Links tab of the Properties widget. You run the risk that a URL is no longer available, especially with links to external content. For example, you have no control over whether the link www.nu.nl/sport is still valid. In XperienCentral, content can be unpublished which can cause an internal link to be invalid. A link to unavailable content can exist and in these cases we call them "broken" or "dead" links. The presence of broken links can have an undesirable effect on the SEO of a website and result in a suboptimal experience for website visitors. In an earlier article about error pages in XperienCentral we discussed how to handle these types of situations but you can also deal with them effectively using the Link widget. This widget allows you to find broken links in-context and it is an excellent supplement to similar software like Google Webmaster Tools.
This article explains how to use the Link widget step-by-step.
Step 1: install the widget
The Link widget is not availalbe in a standard installation of XperienCentral but you can obtain it for free by contacting our Customer Services Department. Once the widget is installed, you can add it to one of the sidebars in the Workspace by clicking the plus (+) icon: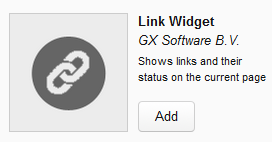 Step 2: Getting started
The widget runs every night at 01:00 (the time is configurable in the Setup Tool) and steps recursively through all the links on the website and puts them into three categories, namely: (1) broken links (status code 404 of 500), (2) working links (responscode 200) and (3) link to inactive (unpublished) content in XperienCentral. Information about all links present in the currently opened content item is shown in the widget in the Sidebar. If you don't see any information about links, the content item has not been scanned and that means you have to do it manually using the [Refresh] button in the widget (shown in the figure below):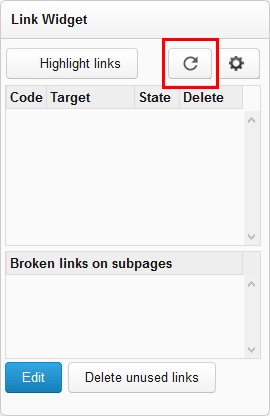 For content items containing multiple links, it might take some time to see the results. If you think it's taking too long, click the Configure button in the widget and select "Show all links". If "Show all links" is not selected and no results are shown, then that's good news — it means that all links on the current content item are working fine.
Important: recursive scans of a website including all child pages and content, especially those with thousands of pages/articles, uses a lot of resources and that's why the scan is performed at 01:00 by default. XperienCentral uses with the role Developer can carry out a manual scan as described at the end of this article.
Step 3: fixing a broken link or deleting it
Links with the status "broken link" (red X) or "link to unpublished content" (yellow exclamation point) can be fixed or deleted. You can fix a link by selecting it in the widget and then clicking [Edit]. You will then be directed to the Links tab of the Properties widget where you can change it. After closing the Properties widget, you will be back on the content item. If all went well, the link should now appear with a green checkmark (if "Show all links" is selected) or the link no longer appears in the list.
Is a link superfluous? If so, you can delete it from the content item directly from the Link widget. In the example below, we delete the link C01 by clicking the "x" in the Delete column next to the link. Whenever you delete a link, you will always be prompted to confirm the decision.
When you delete a link, the "C" code and all underlying references are deleted.
Step 4: other settings
The Link widget contains a few other settings (described below).
Highlight links: When this setting is turned on, all C-codes present in the content item are highlighted in the Editor so that you can easily see where they are located.
Ignore status codes: If there are some status codes that you want to ignore and/or you do not want them to be flagged as an error, you can enter a comma-separated list of the HTTP status codes to be ignored in this field.
Amount of subpages shown: Here you specify how many subpages with broken links are shown in the overview.
Recursively refresh: This is a powerful option for XperienCentral users with the role "Developer". All the links on website will be checked and their status refreshed when you click [Refresh]. Note: this command could potentially tie up a lot of resources depending on how much content your website has.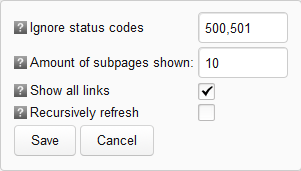 Try it out
The Link widget can work with a broad range of custom content types, however, if you find that it does not, please contact the GX Software Customer Services department for a solution.