The longer you work with XperienCentral, the amount of content will naturally continue to grow. In order to make it easier to search through large collections of content to find, for example, a content item that you want to reuse, we have developed the Content Repository widget. This article explains how to get started using this widget.
Step 1: Install the widget
The Content Repository widget is not available in a standard installation of XperienCentral but you can obtain it for free by contacting our Customer Services department. Once the widget is installed, you can add it to one of the sidebars in the Workspace by clicking the plus (+) icon. The Content Repository can then be added: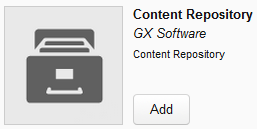 Step 2: Getting started
In the widget, you can search for content by entering a search term – "logo" for example: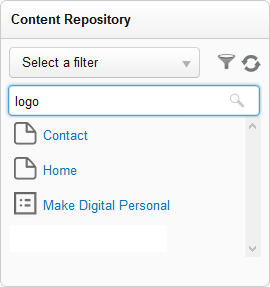 All results that match the search term, "logo" in this case, are shown and by default they are sorted by publication date (newest on top).
Step 3: Create reusable filters
If you find that you often search for content using the same term, you can create a filter for it. Once you have created a filter, you can simply select it instead of having to type in the search term over and over.
To create a new filter, perform the following steps. In this example, we will create a filter for the search term "logo":
In the Content Repository widget, click the Filters icon:




Click [Add].
Fill in the following fields:

Filter name: The name of the filter ("logo" in this example).
View: Select the search results view (Thumb, List or Grid).
Sorting: Select how to sort the search results.
Keyword: Specify the term to search for ("logo" in this example).



The button [Configure your filer] is optional. It allows you to further configure the filter based on the Advanced Search fields. You can, for example, limit the search results to only images or only pages and page sections. When you have configured the settings, click [Done].


Click [Save]. For example:'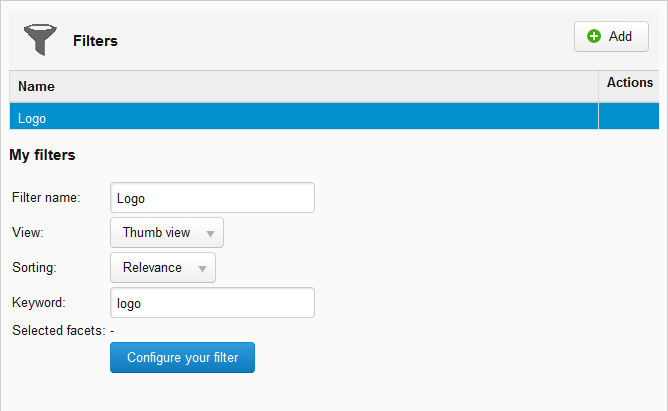 Prerequisites
The Content Repository widget has dependencies on two other XperienCentral widgets. These will be delivered to you by your GX Software consultant. The Content Repository widget can work with a broad range of custom content types, however, if you find that it does not, please contact the GX Software Customer Services department for a solution.